GUARANTEED SECURED CHECKOUT WITH:
The Last Dog Toy You Will Ever Need!
✔️  Non-Toxic Material
✔️  Entertaining
✔️  Ultra-Strong Design
✔️  Plaque Removing
Tired of having to explain your holey-furniture to your guests? It's not Art Nouveau. It's your dog - and his uncontrollable hunger for (apparently) all of your most prized belongings. Your buddy needs a Toothie. But it's not just any chewy dog ball.
Created exclusively for your buddy, our Toothie has just what the dog-tor ordered. The Toothie is the ultimate entertainment advantage in a world of average dog toys. Using a specially crafted design that's engaging for dogs and cleans their teeth, your dog will want to chew their new favorite toy for hours on end. The best part? Helping you save money on costly dental visits and furniture damage!  
Combining the functionality of a tennis ball shape with an engaging and teeth cleaning design, this chewy dog ball can improve your dog's health while stimulating their brain through paws-on problem-solving. After all, they'll need to work hard to maneuver the treat out of the ball. Yes, you heard right - there's a delicious treat waiting for them on the inside.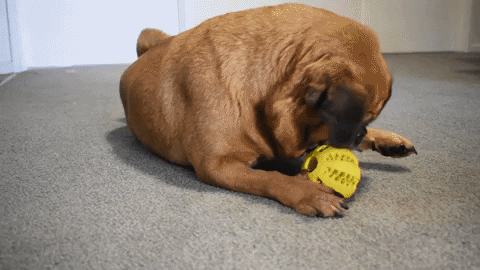 The Toothie from Fur Buddies Co. is a clever way to reduce dog behavioral problems, combat boredom, ease stress, and of course, save your furniture and belongings from being ruined. Don't just buy your dog a ball. Get him, or her, the most entertaining and stimulating gift that keeps on giving - one that's full of surprises.
Join the movement of Pet owners discovering the Toothie and how it's engaging their dogs in a new way that doesn't break the bank! (or your furniture)
TOOTHIE- FEATURES/BENEFITS
✅ Easy To Use
We made sure that the Toothie is extremely easy to fill up with your dog's favorite snacks or pastes! Simply push to lock treats in or pull the opening apart slightly for bigger treats. Once loaded up, let the fun begin for your buddy!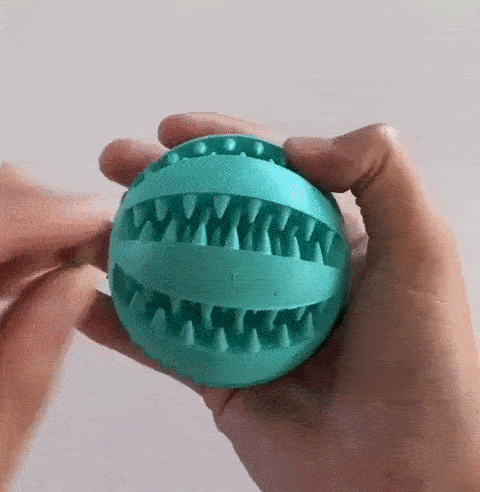 ✅ Plaque Removing & Teeth Cleaning
The little teeth on the Toothie have been designed to get in all the hard to reach places of your dog's mouth. Making sure to remove all plaque and leftover food!
When your dog chews and its teeth enter the grooves of the ball, the pointed components of the ball acts as a soft toothpick gradually removing plaque build-up. Imagine the money you'll save on teeth-cleaning costs in the long-term!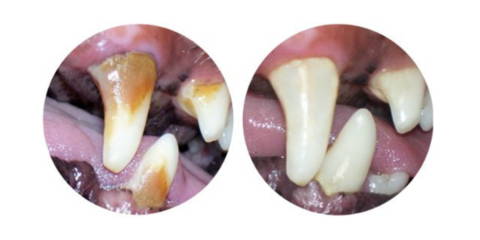 ✅ Stops Them Chewing Your Personal Belongings
It's an engaging slow-release treat-dispensing design and robust rubber material that is satisfying to chew will keep your dog distracted for hours! Replenish the ball daily with treats to distract your dog from your belongings.
✅ Non-Toxic Material
The Toothie is made from extra-tough rubber. It has strong elasticity, bite resistant, and made from natural rubber. The Toothie is non-abrasive and 100% safe for your Fur Buddies to grind, chew, and clean their teeth (improving dental oral care).
 ✅ Entertaining & IQ Training
Perfect for fetch, snacks, and treats. The design and the way the Toothie functions will keep your Fur Buddies busy for hours on end!
The Toothie will keep your buddy engaged and even significantly improves their IQ as they try to maneuver their delicious treats out. Dogs enjoy the challenge and reward of working for food.
✅ Ultra-Strong Design
The Toothie's soft and elastic design assists in cleaning your dog's teeth and keep their gums healthy. Soft enough to not hurt your buddy, but strong enough to not be ripped into shreds! 
✅ Multiple Uses 
Besides being a fantastic teeth cleaning distraction on its own for your dogs, it has similar functionality to that of a tennis ball. It is bouncy and will fit into most dog ball throwers meaning you don't have to pick up your dog's new slimy toy. 
✅ Burn Calories & Reduce Excess Energy
What's better than your buddy burning a few calories whilst having fun and working for those treats? The Toothie is perfect for times when your buddy is stuck at home for long periods of time.
HOW TO USE YOUR TOOTHIE:
Take the ball out of its original packaging.
Grab your pet's favorite treat, kibble or snacks, and fill the ball with food. Simply pull the ball's openings apart and place food into the ball.
Give the ball directly or throw away for your dog to chase after.
Now, watch them be entertained for hours on end! All the while stimulating their brain and cleaning their teeth! No more chewing on your shoes and costly dental visits!
Which Size Do I Get?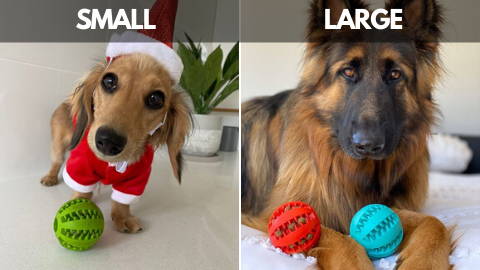 (The Small is best for only the little buddies, the Large size is roughly the same size as a tennis ball).
THE TOOTHIE HAS BEEN RATED 5 STARS BY NUMEROUS DOG OWNERS!
SEE WHY, SHOP NOW!
ORDER TODAY AND RECEIVE FREE WORLDWIDE SHIPPING

OUR GUARANTEE
We offer a
risk-free 30-day money-back guarantee
. If you or your dog don't have a positive experience for ANY reason, we will do WHATEVER it takes to make sure you are 100% satisfied with your purchase.
FREQUENTLY ASKED QUESTIONS

Q: I have a small dog; will this work for him/her?
A: Yes! Our Toothie accommodates for all dogs, great and small. There are 2 sizes. One size (7cm) for the medium to large buddies and a smaller size (5cm) for the smaller buddies.

Q: How do I know what size to get?
A: Our larger size (7cm) is roughly equivalent to the size of a tennis ball. If your dog can fit or hold a tennis ball with its mouth, we recommend the larger size. However, if your dog cannot do this, we recommend the smaller size (5cm).

Q: How long does it take to fill the ball openings with dog snacks?
A: In 2 minutes or less, we know you are busy!

Q: How does it clean my dog's teeth?
A: The grooves on the inside of the ball have pointy edges that act as a soft toothpick. As your dog chews on the ball to remove the treats, their teeth enter these grooves and brush up against the edges. This is how plaque is removed from your pet's teeth. It's that easy, no more smelly breath!
Why Fur Buddies Co? 😍
FREE Worldwide Delivery

Questions? Our support team is only a mail away. Fill out your query form here!