GUARANTEED SECURED CHECKOUT WITH:
Don't Let Your Pet Suffer In Silence!

*Vet and Groomer Recommended*
✔️ Hands-free Cleaning
✔️ 2 in 1 Dog Paw Cleaner
✔️ Very Portable
✔️ Effective & Comfortable
Most people don't know that dogs have sweat glands in their paws, and if they aren't cleaned properly they can become infected. Winter weather can be especially hard on your dog's paws, so it is very important to keep then clean and prevent infection. The truth is not cleaning your dog's paws can result in some serious problems like constant licking, grass seed infections, and salt accumulation.
You'll never have to worry again about your dog's dirty paws with The Dog Paw Cleaner Cup. With is, your Fur Buddies can play in the mud, sand, dirt, and everything else without tracking it into your car or home. It has soft, thick silicone bristles inside an easy-to-grip tumbler for his paws. Just fill the tumbler with water, insert his/her dirty paw, give the tumbler a few twists, and pull out a perfectly clean paw. Repeat the process a couple more times, dry their paws and you're good to go! Both the tumbler and bristles are dishwasher safe for easy cleaning and sanitizing.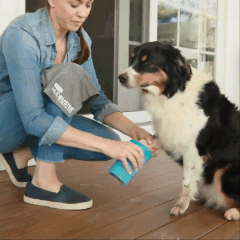 Here at Fur Buddies Co., we give attention to all parts of your pet. Taking care of your dog's paws is quite often forgotten by a lot of dog owners, but paws are actually very important and have to be cared for on a regular basis. It might seem like not a big deal to some, but it should be taken seriously since paws don't get easily injured, irritated, and so forth. The best paw wash for dogs can help to keep your pet's feet free of dirt, mud, debris, and other things to prevent issues.
Gentle & washable silicone bristles on the paw cleaner help loosen dirt and mud from your dog's paws. 
DOG PAW CLEANER CUP FEATURES/BENEFITS:
✅ The Dog Paw Cleaner Cup takes the environment into consideration. Saves on average hundreds of gallons annually.
✅ Removes bacteria with soft abrasives to remove it at the source.
✅ Keep your house clean and mud-free after walks!
✅ Portable, keeps your dog anywhere.
✅ Clean your pet's paw in seconds.
How To Use:

Add some water to the cup.
Put the dog's into the cup, Carefully rotating or push up and down and then try rotating it the opposite way for extra effect.
Repeat the same process for the other three.
Dry your dog's with a towel, and empty the dirty water out of the Cleaner.
To clean the cleaner: Remove the lid and bristles and rinse for next use.
Product Specifications:
Which Size Do I Get?
THE DOG PAW CLEANER CUP HAS BEEN RATED 5 STARS BY NUMEROUS DOG OWNERS! 
SEE WHY, SHOP NOW!
ORDER TODAY AND RECEIVE FREE WORLDWIDE SHIPPING 
 OUR GUARANTEE 
We offer a risk-free 30-day money-back guarantee. If you or your dog don't have a positive experience for ANY reason, we will do WHATEVER it takes to make sure you are 100% satisfied with your purchase.
Why Fur Buddies Co? 😍
FREE Worldwide Delivery

Questions? Our support team is only a mail away. Fill out your query form here!